Dream led to stolen 'golden bowl' instrument and hidden tribe
In 2013 Caleb Byerly woke up with a start and began to furiously write in his journal everything he saw in a rather unusual
dream. For the previous five years, the small-town North Carolina resident had been engaged in mission outreach to indigenous people and tribal areas in Southeast Asia and the Pacific Islands.
"In the dream, I was standing on top of this mountain. I was looking out across the mountain, and I saw a tribe of people," he told The Unseen Story. Caleb and his wife, Gladys, live in Moravian Falls, a town of 1400 in the foothills of the Brushy Mountains.
He had never seen the tribe before, so he asked, "What tribe are you? What people are you?"
"We're the Tinananon tribe," they replied.  Caleb had never heard of this people group and he began to carefully observe their actions in his dream.
A tribal chief walked forward carrying a musical instrument. Caleb happens to be an instrument maker by profession, so his eyes "zoomed in" to study the distinctive design of an instrument unlike anything he had ever seen before.
It had 30 strings going all the way around the top of a golden bowl, from the outside, crisscrossing in the middle of the instrument. "I suddenly got a full download of everything about this instrument, what dimensions the instrument was, what material it was made out of, even like how it was tuned and how it was played. After that, I kind of zoomed back out.
"This tribal chief, he took the instrument and he put it on the table. He took two small sticks, and he began to play this instrument. As he played the whole tribe started to dance and they started to worship. This kind of sound of worship just filled the place. It was as if heaven and earth just collided. After that I woke up from the dream."
God has spoken to Caleb through dreams previously, so he meticulously recorded in his journal the name of the Tinananon tribe. He made detailed drawings of the bowl, its dimensions and materials, a wooden ring that goes around the bowl, the strings connected by wooden pegs, and the two sticks used to play the instrument.
"I feel like when God speaks to you, it's an invitation to partner and walk with God. It's not just God commanding you to do things or God just saying do this, do that. But it's the Holy Spirit inviting you into some new journey that he's calling you into, and it's connected to you, it's connected to your DNA and your calling. I really value that a lot. I really thought that this would be a really exciting thing to follow with the Lord."
Caleb began to search online for any reference to a Tinananon people group but came up short. "I contacted different organizations like Wycliffe Bible Translators, and Summer Institute of Linguistics to see if they knew anything about this tribe. But everywhere I searched, I could not find that word. I tried the different spellings, but just couldn't find anything there. So I kind of gave up on that."
But as a professional instrument maker, he was intrigued by the idea of recreating the instrument he saw in the dream. "I'm gonna make this thing!" he decided. Even though he had not put metal and wood together in that way, he was up for the challenge.
"I got into my shop, and I just kept breaking this thing. I kept breaking things and snapping things. I could not figure out this one process. I got really frustrated. I was like, I'm just gonna put this thing to the side. I just couldn't figure it out.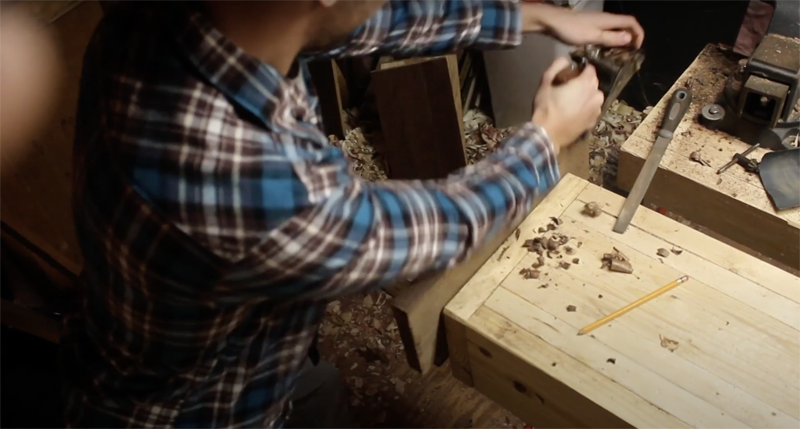 "So, I kind of gave up on the whole dream. I felt like I had done my part. I wasn't getting anywhere. So I just kind of gave it up."
Trip to the Philippines
About six months later, he took a mission trip to the island of Mindanao in the southern Philippines, an area where he had previously been involved in ministry.
"I was on a Jeepney, which is like a public transportation. There was this man that was sitting on the other side of me. I could tell this guy was staring at me. I was like, what's this guy doing? Every time that I would look at him, he would like look away."
Caleb knows the national language of the Philippines, Tagalog, so he spoke to the man. "As I was talking to him, it turns out that he's a believer! So we're chatting and then right in the middle of our conversation, I heard the Lord speak to me. It wasn't an audible voice or anything. It was just felt."
The Lord spoke to Caleb's heart and said, I want you to ask that man about the Tinananon.
Inside, Caleb resisted.  No, I'm not going to ask this man about the Tinananon, he thought. I've already tried to do all my research.
 A second time the Lord nudged his heart, Ask this man about the Tinananon.
Caleb built up his courage and said meekly, "Sir, do you happen to know Tinananon?
As soon as he said he word Tinananon, the man's eyes got really big.
He leaned in and said, "Hey, that's my people — that's my tribe! How do you know my people?"
Caleb was rendered speechless for a moment. "Tell me everything you know about your tribe."
Manigos began to explain that his tribe lives in a deep mountainous region of Mindanao. "This area is a really dangerous place," he said. "No one from outside goes to this place." Manigos estimated his people group numbers between 70,000 and 100,000 people, scattered throughout the mountainous region in pockets.
Caleb invited Manigos to follow him to the place he was staying and showed him his journal entry with the word Tinananon.
Manigos began shaking his head, and tears streamed down his face.
He said, "Remember earlier on the bus, I kept looking at you."
"Yes, what was that all about?"
"I kept looking at you, and the reason why is because I've seen you before…I just realized where I saw you, I also saw you in a dream."
Manigos explained that was born in the Tinananon tribe. He left as a young man and went to Davao City, the largest city on the island of Mindanao, with 1.8 million people. He came to know Jesus while he lived in the city, then God called him back to his tribe through a dream.
In the dream, Manigos had gone back to evangelize his people – with Caleb! "He saw me in his dream," Caleb said, "and I came and joined him. He and I began to minister and bring the good news of Jesus to his people."
They were filled with wonder and awe at the way God brought them together. The two men stayed together for several days. "We all worshipped together and prayed together for a few days. Manigos invited Caleb to visit his tribe.
"Yeah, I would love to go to your tribe," Caleb replied, "but I need to ask my wife first." His wife, Gladys, was eight months pregnant at the time. Going on a potentially dangerous journey, immediately before the birth of their first child was a big decision they had to make.
After Caleb flew home to North Carolina, he and Gladys sought the Lord's direction. "We felt like the Lord's hand was on it," he said. "And if the Lord showed this, up to this point, then He would continue to be with us. So I decided I was going to go, but I wanted to get back in the shop and try to make this instrument again."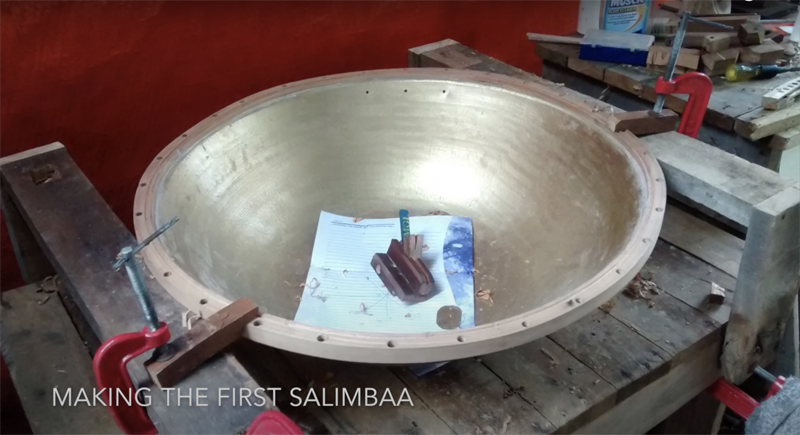 Caleb got very focused and asked the Holy Spirit to help him. "The Lord gave me wisdom, gave me insight on the process of what to do…with the help of the Holy Spirit and my wife, we were able to get it. I finally made this instrument!
He put the strings on it for the first time. "I tuned it up the way I heard it in the dream. I got the two little sticks. And I started to play it. It was that same sound, the same sound that I heard in the dream. And I was like, this is it. I was just really excited about it."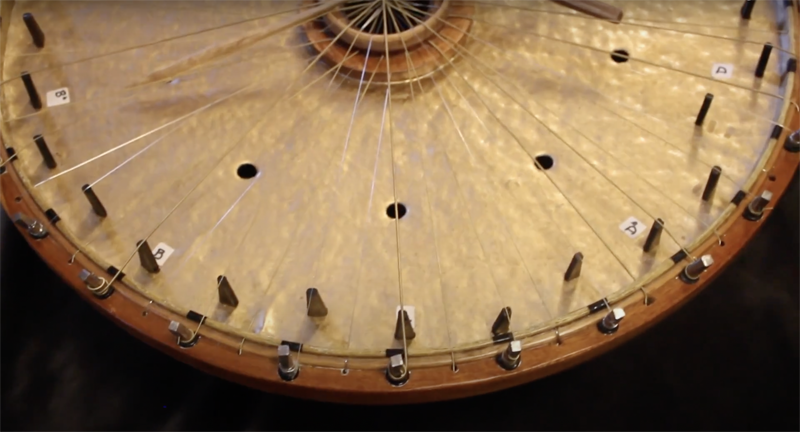 Caleb bought a plane ticket and left the next day for the Philippines, taking the instrument with him.