Sudanese Christians suffer amidst civil war
Sudanese Christians living in areas of Khartoum have painted a desperate picture of life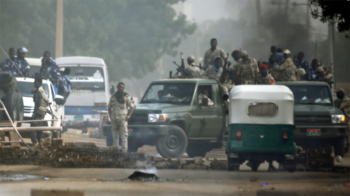 caught between warring armies, with one pastor saying the worsening situation means leaving might be his only option.
Since April 15 when fighting erupted between the Sudanese army and Rapid Support Forces (RSF) militias, live programs on SAT-7's Arabic channel have been responding to the crisis with news and prayer.
Pastor Hafiz Desta told SAT-7's New Angle program that living in his area was becoming an almost impossible struggle. Fire burned down his church as well as the local market.
"Every two days we walk down to a district that's far away from us to get water and some provisions. Most of our neighbors left the area and went to other places."
He said, "The other day we were searched. Two friends and I took the church car to get water and provisions then and [RSF members] searched us and questioned us.
"It is getting worse," he continued. "We are waiting for a couple of days, maybe a week. If it gets worse, we will leave."
Several of the guests that SAT-7 current affairs program, You Are Not Alone, spoke to said that intense fighting means that escape has become too dangerous.
"Under Siege"
Khartoum resident Philip Abdel Messih thanked SAT-7 for caring about the situation and said most residents had fled his neighborhood. Now, RSF members surround those who remain. While the RSF uses nearby homes for shelter, they are targeted by the army.
"Indirectly, they have put us under siege," he said. "There are no safe areas. Leaving is dangerous because they could fire at us. As believers, our only option is to pray and fast."
Baptist Pastor Philemon Hassan said that while some of his congregation had fled to other cities or to Egypt, most were now pinned down by the fighting. He said, "Because our area is filled with military buildings and facilities, both conflicting parties are present here."
Appeal to Stop the War
He used his interview to appeal to the two factions, saying, "If the conflicting parties can hear me, we want to tell them to stop this war. There are no winners in this war, and they must hear the voice of wisdom and think of the Sudanese people who have suffered for years and need peace. We need to stand together and unite in prayer for Sudan. We thank all the believers around the world who are praying for Sudan."
Pastor Hassan was asked what message he would give to Christians trapped in this crisis. He said, "We live in an evil world that is full of conflicts. Jesus told the believers that there would be conflicts and crises. We are no different from the rest of the world. God promised that in the middle of trials and crises, there's a way out. God knows all the details. It is natural to be afraid, but we must trust in God completely and that He cares for us and all the details of our lives. Let's remember to keep the joy of the Lord in our hearts," he said.
An Egyptian medical student described his grueling journey out of Sudan to You Are Not Alone. Abdel Majid and a friend had no money and banks were closed, so they endured a grueling five-day bus trip with very little food or water. "Everyone who is leaving is leaving at their own risk," he said.
"We had expectations of this conflict but thought that the Sudanese army would take control over it, and it would be over in a few days. We didn't expect this," he added. — SAT-7